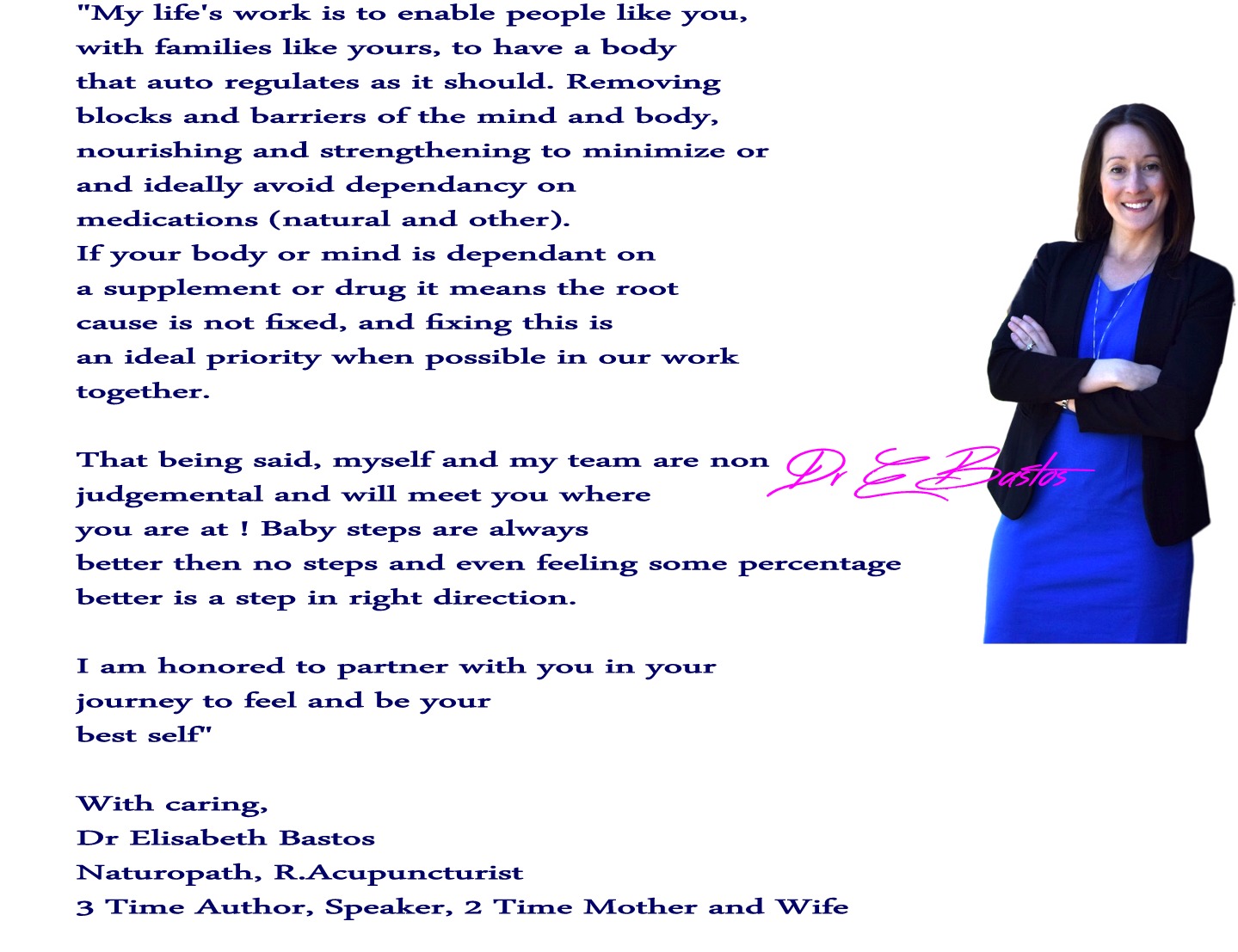 I am happy to offer you a Free 15 minute Education Session, so you can learn more about my services and so that I can ensure
I am the best fit for your goals.
Please fill out the contact form to the right to get started and be sure to
provide your best phone number.
Dr. Elisabeth Bastos is a full time practicing board registered Naturopathic Doctor since 2005 and board registered acupuncturist who values clinical research, continuing education and strives for continued advancements in her practice.  
Your consults are held just 1 minute off the 401 Hwy in a peaceful nature filled area where your healing process can begin even before you step in the office.  The clinic space uses ElectroMagnetic Stress protection technology, UV and ionization air filtration technology, full spectrum lights and clean water UV and reverse osmosis water, giving you a home away from home feel when you become apart of the clinic family.  Located in SouthWestern Ontario, Canada and serving internationally.
Did you know we have on site Registered Massage therapy and an Osteopathic Manual Practitioner?
"It is more important to know what sort of person has a disease than to know what sort of disease a person has."
Dr Bastos is medically trained in diagnosis and lab assessment with a focus on body chemistry and organ assessment, the immune system, terrain/body environment, with holistic root cause treatments and supports for Mind and Body with much experience and comfort supporting even small children and complex cases.
Direct Billing to participating insurance companies, Mastercard & Visa (a convience fee applies), Cash, e transfers and Debit (with flash enabled cards).
Most health benefits cover your assessments and treatments with Dr. Bastos under her "Naturopath", "Acupuncturist" and "Nutritionist".
Call 519.767.9224
8:30 am to 8:30 pm  Mon and Thurs
8:30am to 5pm Tuesday, Wednesday, Friday
8:30am to 4:30pm Saturday
*Come into our office by appointment only please to ensure we are ready to serve you best and available
Our Address:
4509 Sideroad 20 North (1 min. off the 401)
Puslinch (we are one street next to Guelph and Cambridge) ON, N1H 6J3
519.767.9224
Awards