I am happy to offer you a COMPLIMENTARY 15 MINUTE EDUCATIONAL SESSION by video or phone call, so you can learn more about my services and so that we can ensure we can offer you the best care. Please fill out the contact form to the right to get started and be sure to provide your phone number.
Dr. Elisabeth Bastos is a full time practicing board registered Naturopathic Doctor since 2005 and board registered acupuncturist who values clinical research, continuing education and strives for continued advancements in her practice.  
As her father always said when he mentored her, "Every day always try to find ways to do things better and more effectively"
Intentionally located just off the 401 but in a peaceful rural pocket in an EMF protected clinic with clean water and a family feel in SouthWestern Ontario Canada.
"It is more important to know what sort of person has a disease than to know what sort of disease a person has."
The great physician hippocrates
Medically trained in diagnosis and lab assessment with a focus on body chemistry assessment, terrain/body environment understanding, with holistic root cause treatments and supports.
(for your distinction, please note there is another ND locally with the same first name)
For your ease of travel, we are located in Southwestern Ontario, just off the 401, minutes from Cambridge and Guelph in a stress-free country location.
For your ease of payment, we offer direct billing to participating insurance companies and we offer Mastercard, Visa and E-Transfers.
Most individuals and families have health benefits that cover Dr Bastos' visits and treatments under her Naturopath and Acupuncturist license (please call your provider to find out and our team looks forward to hearing from you soon).
Our Address:
4509 Sideroad 20 North (1 min. off the 401)
Puslinch (we are one street next to Guelph and Cambridge) ON, N1H 6J3
519.767.9224
Working hard to keep all your files in order and all Dr. Bastos' social media connections current.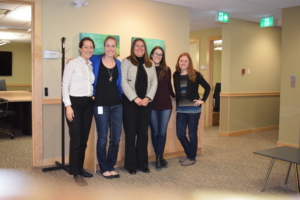 Serving as our call center for over 2 years, delivering you professional detailed customer service so your call is never missed 8:30 to 5pm.
Awards