Let Our Clinic Help You Keep up to date on Health Canada Safety Recalls. Click Here
This Section Contains:  Our Birthing Pool Kits and Thermography Screening Event and Educational Articles by Dr. Bastos
Birthing Pool Kit Rentals: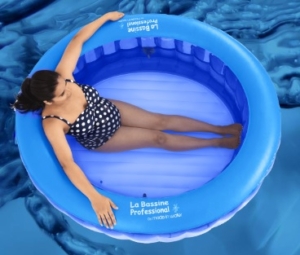 $94 for 4 weeks rental kit
$145 for an 8 week rental kit
La Bassine pool, with doula/midwife friendly clear walls for viewing and allowing a flashlight to shine in for viewing. Wall grips/handles for security. Made from eco-friendly vinyl (free of lead and cadmium)  165cm x 135cm external dimensions
Includes tap adaptor
Single use liner
Thermometer
Pool Cover to Maintain temperature better and keep dust and debris out when not in use    Low Lead certified drinking hose (for use with fresh water to fill the pool only, not for      draining).
$50 refundable damage deposit required and ID
Pickup at South end of Guelph in Puslinch at the Bastos Natural Family Center.
*Please seek guidelines from your care provider for best use of this great birthing product* as we can not provide medical advise or guidelines safely without knowing your full health history and story.
Becoming a patient of Dr.Elisabeth Bastos ND is not required for pool rental.
We look forward to helping you have potentially the best birthing experience ever.
Call To Book Today! (519) 767-9224 or Email: [email protected]
We Host Thermography Screening Events on site !
Hear what Dr. Mercola Has to say about Thermography Testing:
We are Booking Limited Screening Spots for
May 4th 2018
August 17 2018
or November 16th 2018
Breast, Full body (Male or Female), Thyroid, Teeth (hidden infections)
No Squeeze, No Radiation, For all breast sizes, For all Breast densities, detects heat changes 5-8 years before cancer develops.
Find out what risk level you are from Level 1 to 5.
Screening includes:
30 min. testing, a professional report and phone consultation with an expert on your test and on your next action steps
Call 519.767.9224 or Email: [email protected] to book.
Articles:
Sweetners that Pack a Health Punch – Lyme, Ear infections, Biofilms – By Dr Elisabeth Bastos BSc, ND, RAcu
Click edit button to change this code.