Medically Trained and Naturally Focused.  Here are some notes about the Doctor:
Dr Elisabeth Bastos ND, practices evidence based holistic medicine that centers on the concepts found in Functional Medicine, Nutritional Therapy, German Biological Medicine and Homeopathic Medicine.
She is in good standing with the Ontario College of Naturopaths and The College of Traditional Chinese medicine practitioners and acupuncturists of Ontario.
She is also a professional member of the Ontario Association of Naturopathic Doctors and the Canadian Association of Naturopathic Doctors.
Dr. Bastos serves the Portuguese speaking community if this is your preferred language.
"I love seeing individuals and families empowered with education and root cause solutions.  My objective is to be thorough and to the best ability help you remove blockages and restore proper function to body systems and organs using a variety of evidence based tests, assessments and treatments.  The body was made to self regulate and we aim to achieve that natural balance again.  Ideally we are not dependent on products." 
Dr. Bastos ND is a wife, and mother of 2 children.
She has authored literature including the Intolerance Free Simplified Recipe Book.  You can find her two peer reviewed case studies in the USA based NDNR journal (links below)
https://ndnr.com/dermatology/eosinophilic-cellulitis-a-mysterious-case-of-flower-shaped-lesions/
https://ndnr.com/autoimmuneallergy-medicine/chronic-autoimmune-neutropenia-case-study-of-a-4-year-old-female/
She has contributed to Chatelaine magazine on the topic of fertility and  appeared on Experts Live regarding Omegas and Rogers TV regarding Naturopathic Stool testing.  She is a trained professional speaker through Joel Bauer in California.
Contact by email: [email protected] or Phone: 519.767.9224
Follow Elisabeth:
https://www.facebook.com/bastosnaturalfamilycentre/
https://www.facebook.com/elisabeth.bastos333
https://ca.linkedin.com/in/elisabethbastos
instagram.com/drelisabethbastosnd/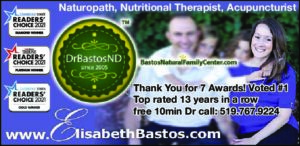 Educational Achievement and Professional diplomas
Baccalaureate in Science from University of Guelph – June 2002
Doctor of Naturopathic Medicine Diploma from the Canadian College of Naturopathic Medicine – June 2005
Certificate of Registration as a Naturopathic Doctor – November 2005 to Present
Registered Acupuncturist General Class – 2015 to Present
Live Cell Analysis Certificate
Chronic Infections Certificate – W. University
Professional Diploma – Nutritional Therapist – December 2021
Here is part of the training that Elisabeth has undergone to date and continues to do:
Consultation with Elder Naturopaths – learning what works in real life
2004-2005 Dr. Sankaran, and his Homeopathic Research and Charities group in India. Classical Homeopathy
Dr. Ullman – Tx of Anxiety, Depression, OCD and Bipolar. 2004
Giovani Macioca – Chinese Medicine Diagnosis and Acupuncture Treatment study
Diagnosis and Treatment of Infertility with Chinese Medicine 2017
Association of Perinatal NDs – starting 2005
Dr. Letitia Dick and Dr. Jared Zeff – Carroll Method Institute on grass roots Naturopathy for food and supplement compatibility assessment, in Spokane, Washington. 2013
Acupuncture in pregnancy and Childbirth. 15 hours – New Zealand's Debra Betts – March 2008
Applied Nutritional Microscopy – Live Blood Cell Analysis 2015
Bio therapeutic Drainage – Dickson Thom 2011
Chronic Degenerative Disease – 2006 Mikhael Adams
Chinese Medicine for Emotional Trauma – CT Homan. 2018
Constitutional Medicine – 2010
Alkalinizing 101. Heather Schofield. – 2016
Pursuing Homeopathy – Rajan Sankaran – 2016
Intestinal Milieu/Biological Medicine – Dr. Dhanani – 2016
Advanced Orthopedics and Electroacupuncture – Dr. Lee 2015
ElectroAcupuncture for Pain and Orthopedics – Dr. Lee 2015
Advanced Applied Microbiology – Michael Coyle 2016
Sanum remedies Lung Acutes – 2016
Advanced Ovarian Reserve Depletion Course – Brandon Horn and Wendy Yu 2017
Hormone Prescription and lab tests – Dr. Westmacott 2015
Environmental toxity in Pediatrics, Mental Health and Learning – 2013
Nerve Entrapment workshop – Dr Poney Chiang 2016
Lyme conference – Innovative Strategies – 2017
AARM Lyme and Co Infection Conference 2018 – Toronto, ON
Breaking the Mold – Environmental illness – with Dr. Jill Crista.  2018
Auricular Medicine and Therapy – with Dr Adams 2018
Complex Cases and Infection Seminar – with multi Speakers. Florida 2019
Chronic Infection Summit – with Multi Speakers. Chicago May 2019.
A three staged approach to treating emotional trauma with Chinese Medicine – with CT Holman 2019
Complex Biotoxin illness, Biological Medicine and Detoxification – with Dr Christine Schaffner ND 2019
Metabolic Endotoxemia and The Gut Brain Connection – with Dr Jill Carnahan MD, ABFM, ABIHM, IFMCP 2019
Children, Mold and Healing the Terrain – with Dr Maya Shetreat MD 2019
Mold and AutoImmunity – with Dr Amy Myers MD 2019
Brain on Fire: Mental Illness and Mold – with Dr Mary Beth Ackerley MD, MD(H), ABIHM 2019
Mold and the 5 levels of healing – with Dr Dietrich Klinghardt, MD,PhD 2019
MCS, EMFs and Highly sensitive Patients – with Dr Stephanie McCarter MD 2019
The Cancer-Mold Connection – with Ty and Charlene Bollinger 2019
Neuropuncture Points and Electrical Acupuncture Module 2 – Dec 2019 – with Dr Michael Corradino
Neuropuncture for Sleeping Disorders: Module 5 – Jan 2020 – with Dr Michael Corradino
Neuropuncture and the treatment of Neurodegenerative Diseases – Dec 2020 with Dr. Michael Corradino
Anti viral acupuncture to reinforce immunity by Susie Hayes – 2021
Palpation based Acupuncture for Post Viral by David Euler – Nov 2021
Endocrine conference + Thyroid Adrenal seminars 2023
To keep the list short there is yearly continued education including 15 hours of acupuncture professional learning yearly and 70 hours of ND, functional medicine
training every 3 years.