Medically Trained and Naturally Focused.
Dr Elisabeth Bastos ND, practices evidence based holistic medicine at her Nature Based Clinic, the Bastos Natural Family Center, conveniently 2 minutes off the 401, local to Cambridge, Puslinch and Guelph.
She is in good standing with the Ontario College of Naturopaths and The College of Traditional Chinese medicine practitioners and acupuncturists of Ontario.
She is also a professional member of the Ontario Association of Naturopathic Doctors and the Canadian Association of Naturopathic Doctors.
Dr. Bastos serves the Portuguese speaking community if this is your preferred language.
"I love seeing individuals and families empowered with education and root cause solutions.  My objective is to be thorough and to the best ability remove blockages and restore proper function to body systems and organs using a variety of evidence based tests, assessments and treatments.  The body was made to self regulate and we aim to achieve that natural balance again.  Ideally we are not dependent on products." 
Dr. Bastos is a wife, and mother of 2 small children.  She has authored literature including the Intolerance Free Simplified Recipe Book.  She has contributed to Chatelaine magazine, appeared on Experts Live and Rogers TV, is a trained professional speaker and is a regular volunteer including as an online mentor for those in crisis.
Contact by email: myhealth@elisabethbastos.com or Phone: 519.767.9224
Follow Elisabeth:
https://www.facebook.com/bastosnaturalfamilycentre/
https://www.facebook.com/elisabeth.bastos333
https://ca.linkedin.com/in/elisabethbastos
instagram.com/drelisabethbastosnd/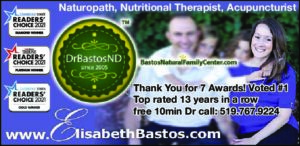 Elisabeth Bastos' Life Path to becoming a Doctor determined to make a difference:
Since high school the seed of interest was planted for natural methods of health such as nutrition and intolerance free eating with books that her Canadian new comer parents left out for her on these topics to keep her busy as they worked over time to get established in Canada.
A seemingly negative event of being hit by a car turned positive in early high school.  Elisabeth was hit by a car while riding her bike and was in severe pain until her parents took her to holistic practitioners that had her well and comfortable in an impressive amount of time.  Through various practitioners she learned to exercise and learned about pain and body healing.  This impressed on her and gave her the passion of taking individuals from dis-ease and stress to true healing with no chemicals just as she had experienced.
More life learning drives Elisabeth's passion for natural healthcare support….in 2018, just before Christmas her cardiologist reported good news that the worrisome issue of poor heart wall movement, possibly linked to ischemia or ebstein barr virus was reversed after her 3 months of self natural medication.  Her 2 prolapses are also healing and reversing which is not the text book expectation.
Dr Bastos has first hand experience with supporting and providing treatment for small children including those with neurological concerns. Her own child at 18 months old had natural support for seizures and instead of 2 years of medication had only a few weeks with natural alternatives.  Her 8 year old also experienced severe confusional migraines and using nutritional therapy is in remission with no episodes for over 1.5 years.
Her family continues to be her spring board for inspiration as she supported and resolved a severe infectious episode of assumed Lyme and viral co infection symptoms in her young child and her oldest is also in process of confirmed Lyme treatment of 3 months.
Call us to book your tour of our family feel clinic in the peaceful rural setting of Puslinch or to book your no charge 10 minute meet and greet.
Educational Achievement and Professional diplomas
Baccalaureate in Science from University of Guelph – June 2002
Doctor of Naturopathic Medicine Diploma from the Canadian College of Naturopathic Medicine – June 2005
Certificate of Registration as a Naturopathic Doctor – November 2005 to Present
Registered Acupuncturist General Class – 2015 to Present
Professional Diploma – Nutritional Therapist – December 2021
Many health benefits insurance providers will refund you for some or all of services from these professional titles. Please call your provider today to find out ! We have your insurance provider pay us to say you time and cost when possible for service portion fees.
Here are just a few circumstances that one may seek care for at our office:
Fatigue, Chronic Fatigue Syndrome/CFS
Autoimmune/Reduced Immune Function concerns and testing – continued study in functional immunology
Severe Anxiety, Depression, Mental Health – including neuroscience based scalp electrostimulation therapy.
Lyme and Other Tick Borne Illness testing and treatment support
Chronic Inflammation and Infections – Viral, Bacterial, parasitic, fungal, mold.
Nutritional Coaching and meal planning for allergy and intolerances.
Certified Carroll Food Intolerance Method Doctor.  Allergy blood testing.
Pain and injury Management – Manuel therapy
Biotoxin illness – visual contrast sensitivity manually is available in house.
Neurological Concerns, Behavioural Concerns, Learning Concerns
Nerve Damage / Neuropathy / Nerve Pain
Concussion
Health care for infants/children,
Pregnancy support including through acupuncture. Breech Baby.
Miscarriage prevention and treatment
Male and female fertility
Infant Colic and Indigestion
Reflux and Heartburn
Developmental Concerns
Seizure History Support
Bladder infection | Kidney Concerns including lowered filtration
Sinus Concerns
Headaches, Migraines
Constipation/Diarrhea, IBS, Inflammatory Bowel Disease
Heavy Metal Toxicity and Detoxification Needs
Live Cell Blood Microscope Analysis
Hormonal Concerns including Thyroid Disease
Menopausal and Menstrual Complaints
Side Effects from Medications
Chronic Infections, Poor Immune Function
Eczema and Psoriasis
Insomnia
Food and Environmental Allergies
Here is part of the training that Elisabeth has undergone to date and continues to do:
By word of mouth consultation from Elder Naturopaths – what works in real life
2004-2005 Dr. Sankaran, and his Homeopathic Research and Charities group in India. Classical Homeopathy
Dr. Ullman – Tx of Anxiety, Depression, OCD and Bipolar. 2004
Giovani Macioca – Chinese Medicine Diagnosis and Acupuncture Treatment study
Diagnosis and Treatment of Infertility with Chinese Medicine 2017
Association of Perinatal NDs – starting 2005
Dr. Letitia Dick and Dr. Jared Zeff – Carroll Method Institute on grass roots Naturopathy for food and supplement compatibility assessment, in Spokane, Washington. 2013
Acupuncture in pregnancy and Childbirth. 15 hours – New Zealand's Debra Betts – March 2008
Applied Nutritional Microscopy – Live Blood Cell Analysis 2015
Bio therapeutic Drainage – Dickson Thom 2011
Chronic Degenerative Disease – 2006 Mikhael Adams
Chinese Medicine for Emotional Trauma – CT Homan. 2018
Constitutional Medicine – 2010
Alkalinizing 101. Heather Schofield. – 2016
Pursuing Homeopathy – Rajan Sankaran – 2016
Intestinal Milieu/Biological Medicine – Dr. Dhanani – 2016
Advanced Orthopedics and Electroacupuncture – Dr. Lee 2015
ElectroAcupuncture for Pain and Orthopedics – Dr. Lee 2015
Advanced Applied Microbiology – Michael Coyle 2016
Sanum remedies Lung Acutes – 2016
Advanced Ovarian Reserve Depletion Course – Brandon Horn and Wendy Yu 2017
Hormone Prescription and lab tests – Dr. Westmacott 2015
Environmental toxity in Pediatrics, Mental Health and Learning – 2013
Nerve Entrapment workshop – Dr Poney Chiang 2016
Lyme conference – Innovative Strategies – 2017
AARM Lyme and Co Infection Conference 2018 – Toronto, ON
Breaking the Mold – Environmental illness – with Dr. Jill Crista.  2018
Auricular Medicine and Therapy – with Dr Adams 2018
Complex Cases and Infection Seminar – with multi Speakers. Florida 2019
Chronic Infection Summit – with Multi Speakers. Chicago May 2019.
A three staged approach to treating emotional trauma with Chinese Medicine – with CT Holman 2019
Complex Biotoxin illness, Biological Medicine and Detoxification – with Dr Christine Schaffner ND 2019
Metabolic Endotoxemia and The Gut Brain Connection – with Dr Jill Carnahan MD, ABFM, ABIHM, IFMCP 2019
Children, Mold and Healing the Terrain – with Dr Maya Shetreat MD 2019
Mold and AutoImmunity – with Dr Amy Myers MD 2019
Brain on Fire: Mental Illness and Mold – with Dr Mary Beth Ackerley MD, MD(H), ABIHM 2019
Mold and the 5 levels of healing – with Dr Dietrich Klinghardt, MD,PhD 2019
MCS, EMFs and Highly sensitive Patients – with Dr Stephanie McCarter MD 2019
The Cancer-Mold Connection – with Ty and Charlene Bollinger 2019
Neuropuncture Points and Electrical Acupuncture Module 2 – Dec 2019 – with Dr Michael Corradino
Neuropuncture for Sleeping Disorders: Module 5 – Jan 2020 – with Dr Michael Corradino
Neuropuncture and the treatment of Neurodegenerative Diseases – Dec 2020 with Dr. Michael Corradino
Anti viral acupuncture to reinforce immunity by Susie Hayes – 2021
Palpation based Acupuncture for Post Viral by David Euler – Nov 2021